If your name is Chris and you're engaged to me, stop reading now!
Not that he usually reads my posts, and I already made him promise not to peek, but just to be safe...
Now then, moving right along:
If you recall, we're heading out to California to check out venues in a week and a few days (read about our favorite venues so far
here
). While we're out on the West Coat, I'll be going up to Portland, Oregon for a few days to visit my family, and do a little dress shopping with my mom and a few of my best friends. That means that on top of doing all the research about everything we need to do in California (since this will probably be the only time we go before the wedding), I've also been looking into wedding dress styles and stores. Not that I'm complaining... this is the fun part :)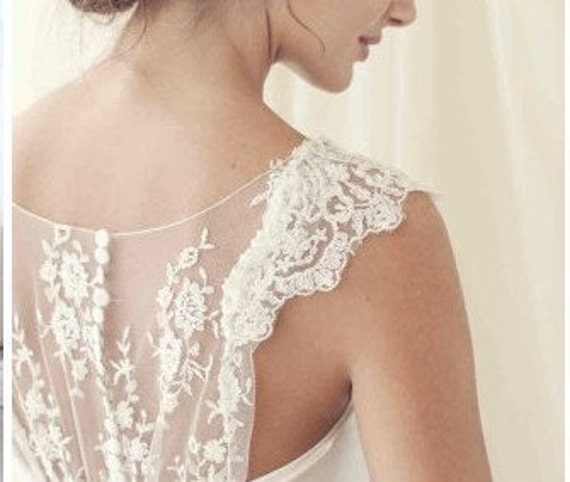 I love this pretty lace back -- from here
I started by thinking about what styles of dresses I like in combination with the practicalities I need, and I came up with this list:
-I have a rather small frame, so I think anything too poofy would overwhelm me. Still, I want a skirt with some movement, so nothing too fitted either. I'm thinking something like an A-line.
-Our wedding is not going to be very formal, so I could go for a more casual tea length dress, but I've never really liked that length on me, and I just like the idea of a long, floor length dress. But any train just wouldn't be practical since we'll be outside in a forest setting.
-I like the sweetheart neckline, but I don't think I want a strapless dress. They look gorgeous, but I've never been very comfortable in them (probably since I don't have a whole lot up top to keep strapless dresses up), and I want to make sure that I'm super comfortable at my wedding so I can dance the night away without awkwardly pulling up my dress all the time
-I love little details, intricate patterns and the like, but since it will be all white (or ivory or something close) I like the idea of having some interesting lacy bits involved. Plus, lace usually has that great vintage vibe you all know I love.
With that in mind, here are some dresses I'm totally crushing on (most aren't quite perfect - like several of them are not full length, but I like the idea behind all of them):
Love this, the sweetheart shape with the lace illusion top, the layer of flowy fabric over the skirt, but I'm not so hot on on the tank-top shape of the lace, and the bodice could be more fitted for me.
I love unique lace like this, and the whole shape of this top is just unexpected and gorgeous, and...
I love this style of open back. LOVE this dress, except the shape of the skirt seemed a bit strange (though maybe I would love it on, not sure), and it's really really expensive.
Love the swiss dot lace and the simplicity, but it's a bit too casual.
Interesting unique back.
I don't like the layers of tulle or the fit of the bodice, but I do like the flowery lace top.
Love the neckline, the guipure lace, and the style of this whole picture, but of course it's not long enough.
This Monique Lhuillier gown has a gorgeous shape and I love the top, but I think it's a little too much for me.
It's strapless and lace-free, but I there's something I love about this Ivy & Aster dress. I bet those ruffly bits have awesome movement, and the bodice is beautiful.
This one is just crazy pretty. There's a lot going on, but I kind of love it.
I think in combination all these dresses are awesome and give the gist of what I want. Of course you never know what you're going to find out there, so I'm excited to try some things on and see what actually looks good on me!
As usual, I'm planning to do wedding shopping as thrifty as possible, and I'm not particularly interested in shopping at a typical bridal shop, so I'm looking forward to checking out these stores in Portland:
Adorned in Grace
and
Brides for a Cause
: both sell used dresses and proceeds go to various charity
Fabulous Affordable Bridal
: a warehouse full of deeply discounted new dresses
Xtabay
: a vintage store that specializes in party dresses that has a vintage bridal salon
Do you know of any other great thrifty bridal stores in the Portland, Oregon area I should check out?
Do you have any dress shopping tips I should keep in mind? How did you decide what type of dress to look for? Did you end up choosing the type of dress you thought you would?