Out here in Massachusetts the sky is bright blue, the sun has been shining for the past few days, and I am in the mood for some fresh and modern blues. Chris and I (ok, mostly Chris, but I've been super busy lately... as usual) have discovered the joy of making treasury lists on Etsy as a way of compiling lovely things with a common related theme (you can see our treasury lists and all our other favorites-- a quickly growing list-- on our Etsy profile page
here
).
This post was inspired by the idea of a treasury list, but I get to also use things from other sites that aren't necessarily for sale, but add to the blue inspiration. Many things here are for sale, and marked as such in the caption with a link to where you can buy them (or just where the picture is from the in the case of NFS things). We've got some art, some vintage housewares, and some interior design inspiration! So many of my favorite things all in one post!
Take a little blue break, and fall into this awesome whirlwind of blues and pretty pastels: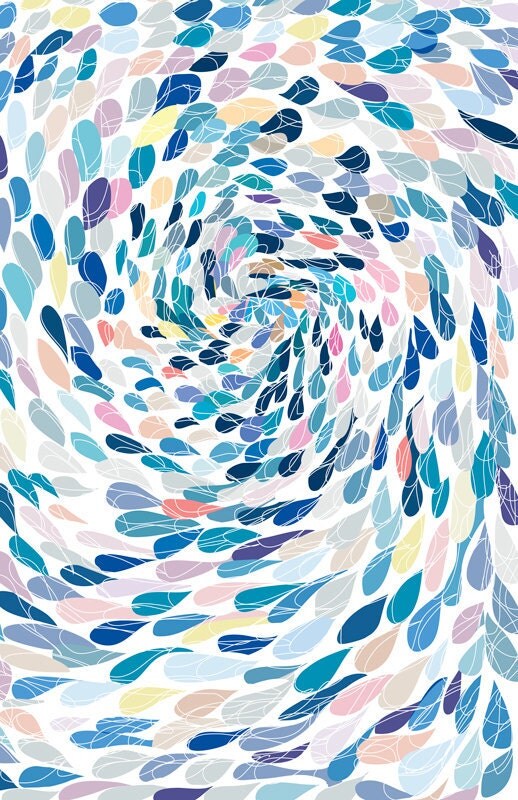 "The Ocean of the Universe" by Mishel Valenton -- buy it on Etsy here
This print is so fresh and modern and fun! I love the texture that is added by those thin white lines weaving through the droplets of color. Super graphic and cool art!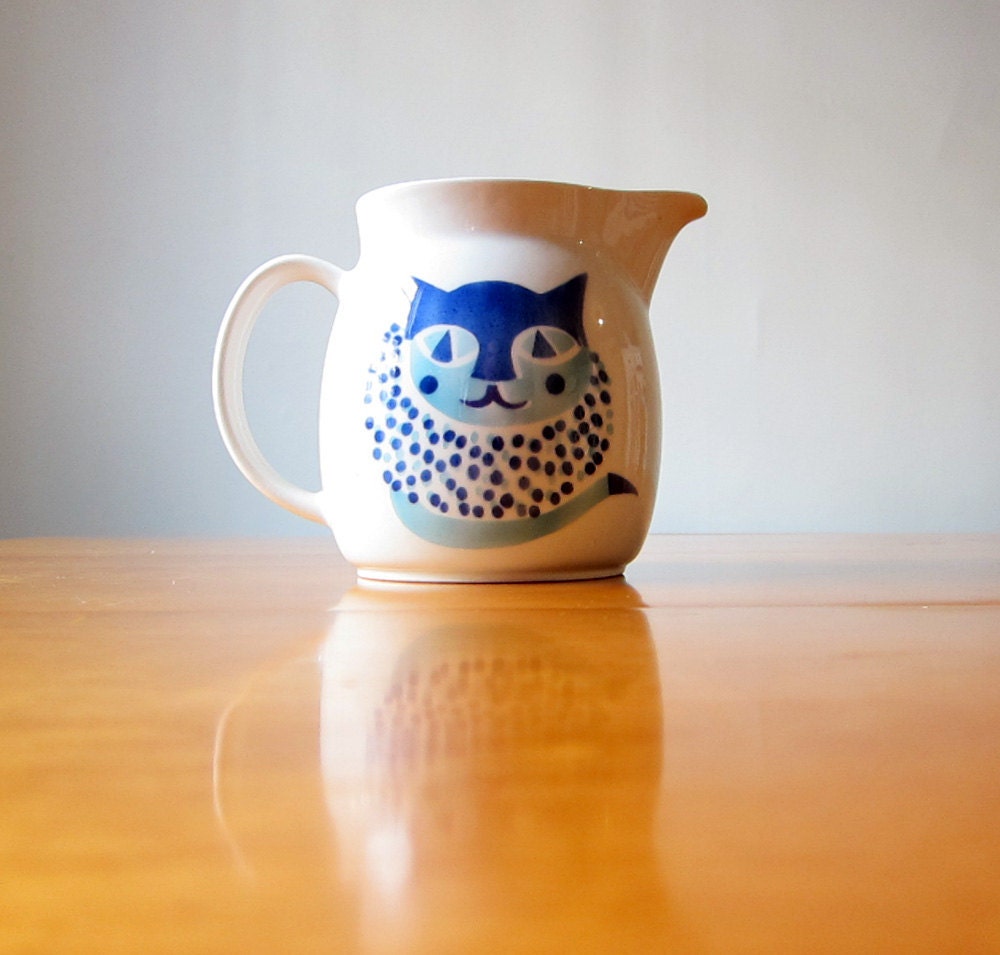 Arabia of Finland blue cat pitcher -- buy it on Etsy here

This crazy Scandinavian pitcher with a hilarious modern cat design on it just makes me happy. It's so silly and whimsical (and unfortunately far out of my price range). A girl can dream...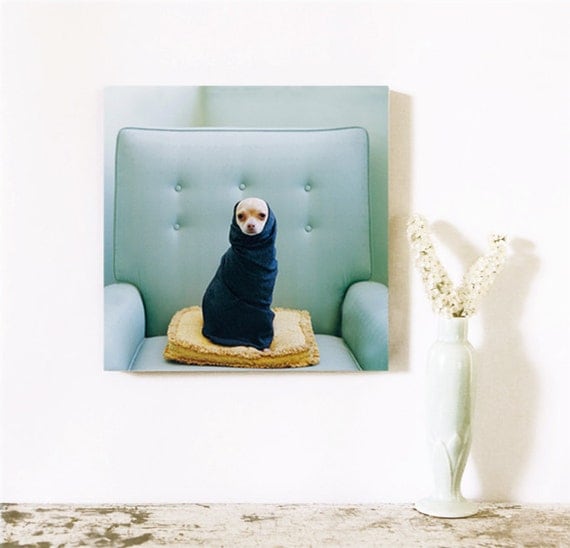 "Pinky Novak" photo by Lucy Snowe -- buy it on Etsy here

I love this photo. It's just so good. I mean... how did they get that funny little dog to sit like that? I love the layers of blue and the perfectly centered little babushka dog on a pillow in the perfect shade of yellow.
from Undecorate here
A lovely blue and teal inspiration I found on the Undecorate blog awhile ago. Such a dreamy eclectic collection of color, patterns, and items.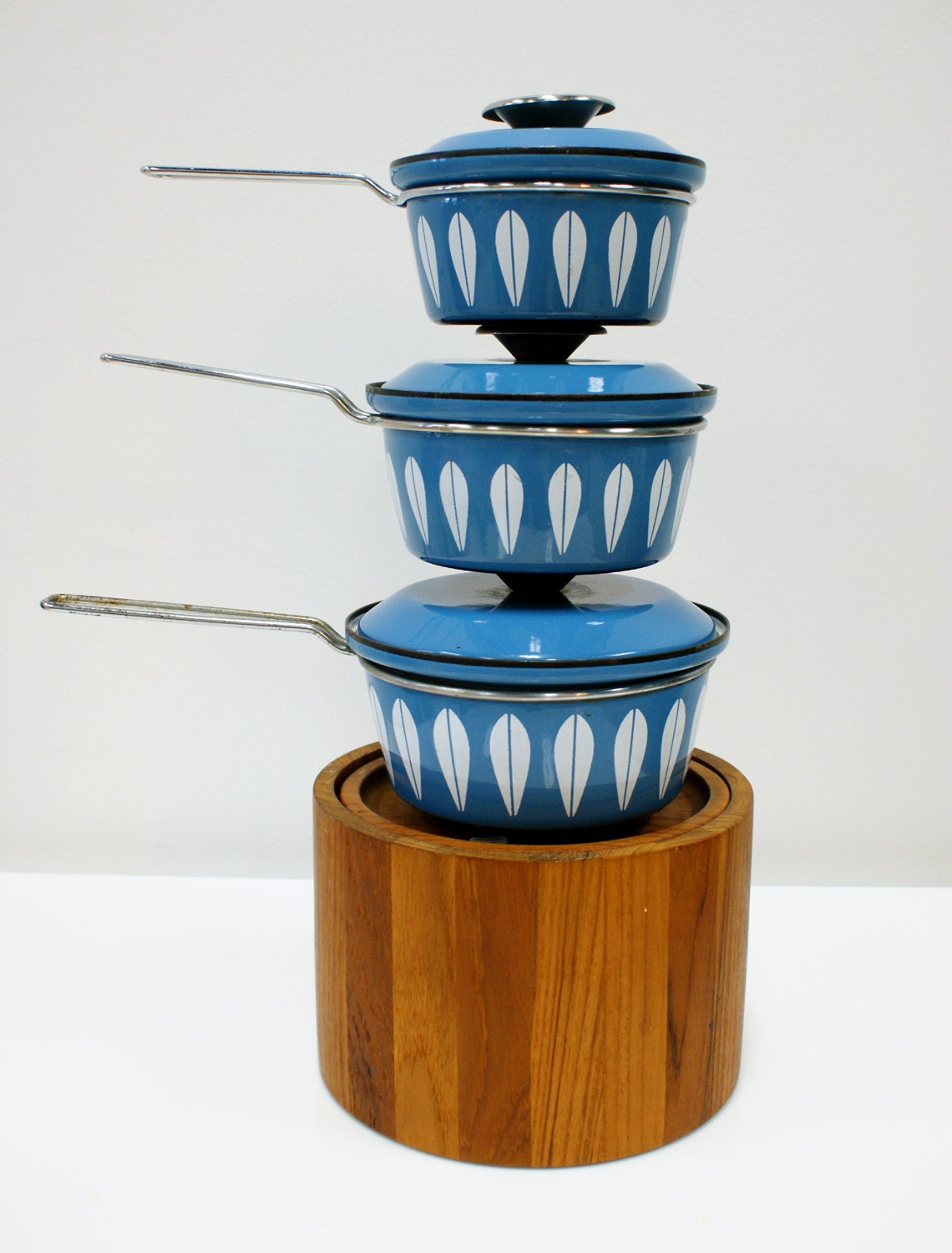 Catharine Holm Lotus Enamel Pots -- buy the set on Etsy here
A beautiful set of Catharine Holm Lotus Enamel Pots. That pattern is just so darn timeless. It's amazing how the simplest designs can be so right. I would love to use and display those in my kitchen someday (when my kitchen is more than a tiny not-so-attractive galley situation).
"125 Swimming Pools" by Jenny Odell -- buy a print on 20x200 here
We already collect lots of vintage things, and now, thanks to 20x200, we can collect swimming pools! The concept behind these prints is amazing. This is a collection of swimming pools from google satellite view. Together they create a unique texture and layers of beautiful bright blues, and individually it's just a collection of swimming pools. I'm totally jealous of those crazy curvy pools.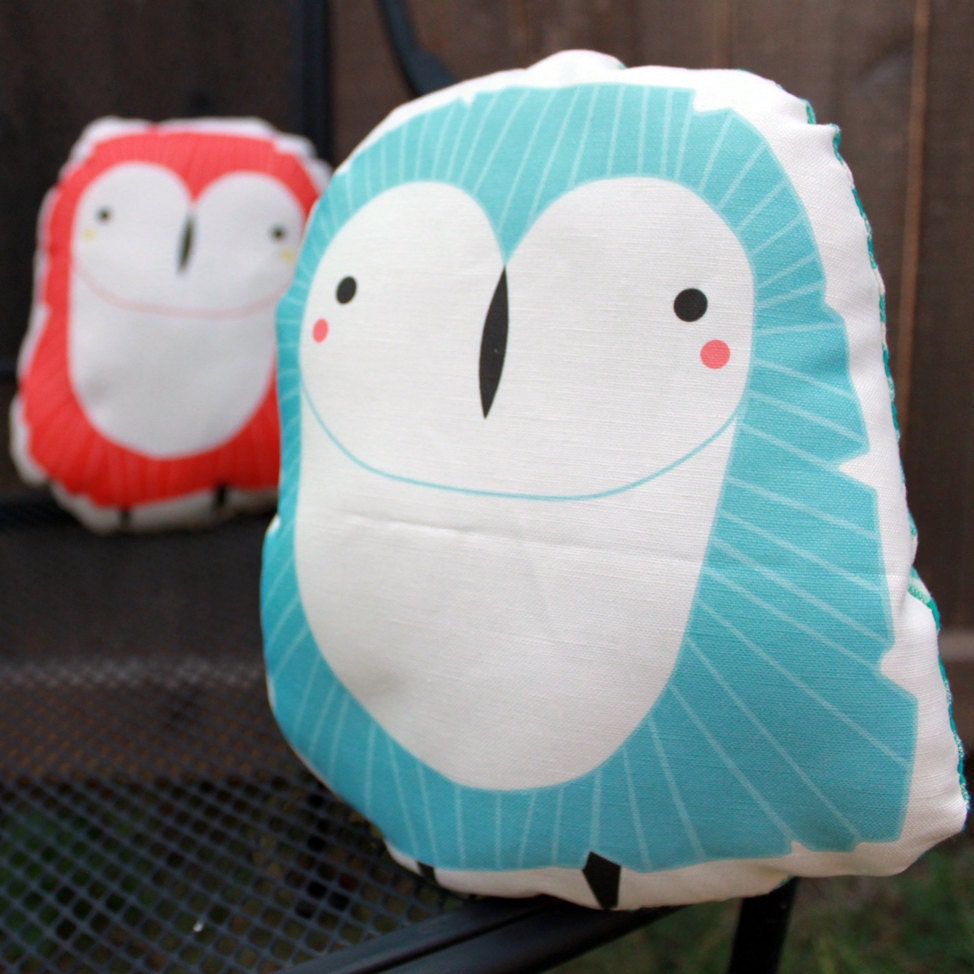 plush owl pillow -- buy it on Etsy here
This Etsy seller makes downright adorable little owl and fox pillows. I'm a big fan of the fox (of course) but I just love the cheery color of this owl with the little pink cheeks! He would be so charming mixed in with throw pillows on a sofa.
Emily Henderson's gorgeous blue sofa on her blog here
Emily Henderson's amaaaaazing living room. I'm pretty sure it has changed since this picture was taken, but I bet it's still awesome. Love the bold flag, the leather pouf, the big cowhide rug (I really want a cowhide rug someday when I have room for one), and of course, the epic blue sofa. Just look at that shape, those legs, and that rich deep blue color! I'm getting all excited just looking at it... now imagine sitting on it...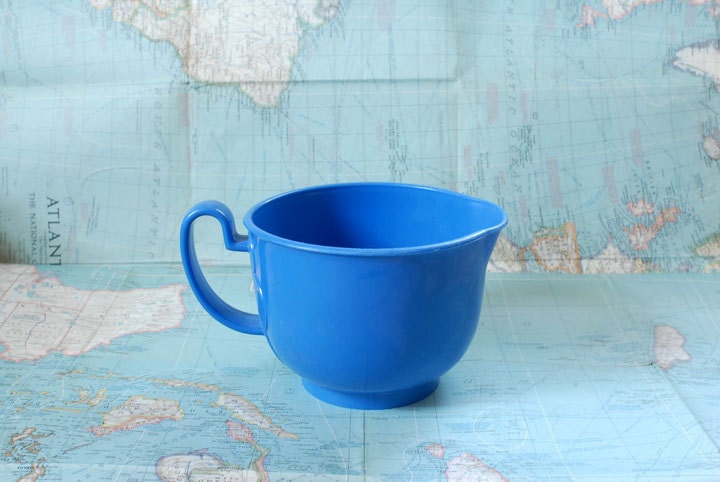 our little Dansk mixing bowl -- buy it on Etsy here
Had to throw in a little bit of
our own Etsy shop
with this adorable little Dansk mixing bowl. Such a great, unique shape and a fun bright blue! I'm such a Dansk fan. I just want to fill up my kitchen with Dansk. Mmmm... Dansk. I'm also really happy with our new style of taking product pictures on vintage maps. The blue oceans are the perfect backdrop.
map covered cardboard deer head on Babble here

Speaking of maps, I just can't say no to this awesome combination of deer and bright blue and green map! The compass rose on the nose (ha that rhymes) is just perfect, and I love how the varying textures of the map weave into the structured cardboard deer head shape. Totally fun and modern play on the animal head / antlers trend AND the maps craze. Well done.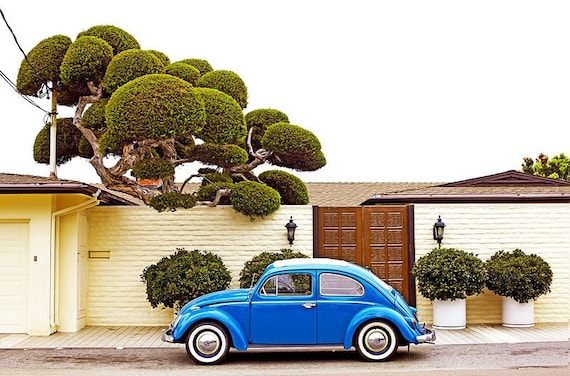 "Seaside in Blue" photo by Jen Zahigian -- buy it on Etsy here
Last, but definitely not least (What am I talking about? Nothing here is least. They were all selected for their greatness!), is this beautiful photograph. Chris found this on Etsy, and I fell in love with it. Bold bright blue old bug (love those!) with the creamy house that just disappears, and the cray-cray (that's Julia speak for "crazy", and yes, I do say that out loud in real life) Dr. Seuss tree creeping up over the gate... it is just a fantastically put together photograph.
When asked, I usually say that purple is my favorite color, but honestly, blue is really my standard. I think I need to start being honest with myself and just admit that it was blue all along. What's your favorite color? What do you think of my blue collection? Know of any great blue things I just need to see?