The balmy winter has been continuing out here, and I'm thinking in florals. It has been so warm, I just want some flowers and some springtime. Ok, today it snowed a little and then rained all day, but still.
I think it is easy to do florals oh-so-wrong, but done right some nice flower power can totally add an amazing punch of awesome to a space. Here's a lovely collection of floral inspiration I curated to brighten your winter (and soon to be spring) days:
wallpaper on Pinterest here
Mmmm the wallpaper, the rip, the hilarious rotary phone.
I love a good cheese plate. Is that knife attached? Amazing.
These mugs are just bursting with fun, and are so much better than your typical matching mugs.
This tea towel has been in my favorites for a long time. I love the colors and the stylized shapes.
Emily Henderson here
My collection would never be complete without some
Emily Henderson
. Loving the rich combination of quilted floral blanket, jewel tone velvet pillow, and colorful flowery pillows.
Ok, I don't know if this Pyrex design is meant to look like flower petals, but that's all I can see. So darn cheery.
Also can't resist throwing in one of our own items. These lunch plates are crazy fun!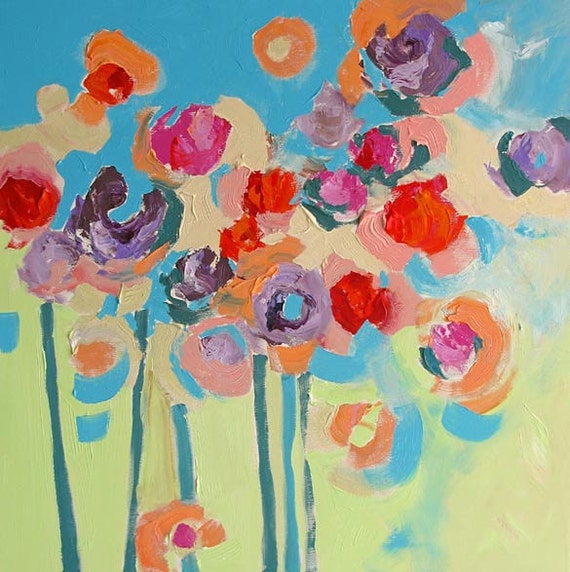 By Etsy artist Linda Monfort - $320 here
This abstracted flower painting is so cheerful. Just imagine it in a colorful gallery wall.
This vintage floral pillow is dangerous, because it could be styled very wrong on a grandma sofa, but in a modern space with some more graphic throw pillows it could be amazing.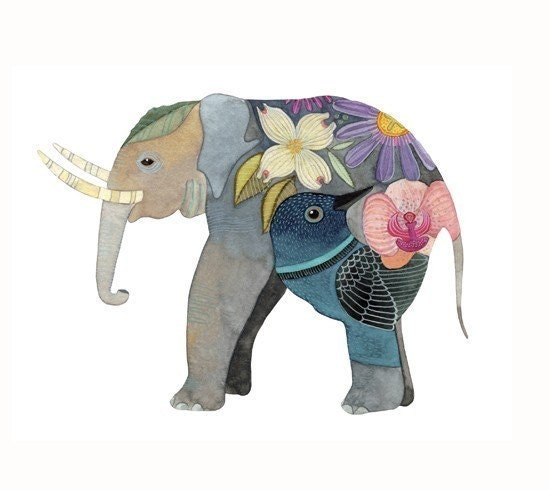 By Etsy artist Geninne - $30 here
This print is just awesome. What a great melding of elephant, bird, and flowers. Beautiful watercolor texture and colors.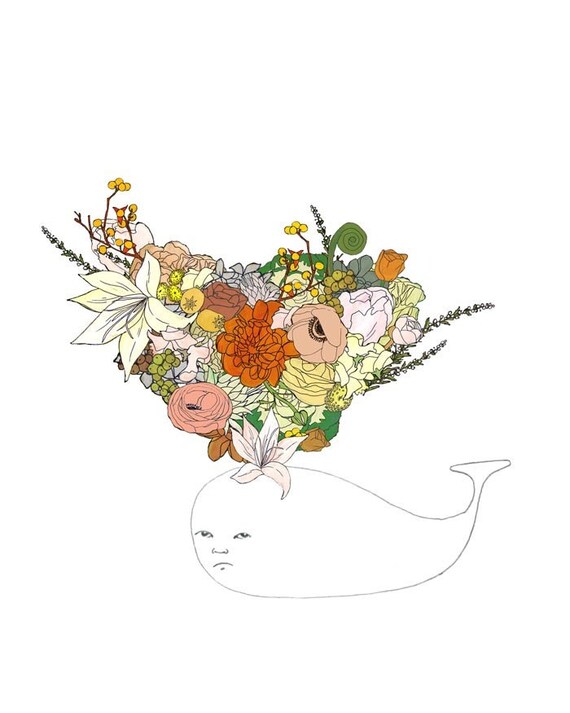 By Etsy artist Katie Vernon - $20 here
We love this Etsy artist. Gorgeous illustrations, combining intricate florals with animals. This whale is my favorite.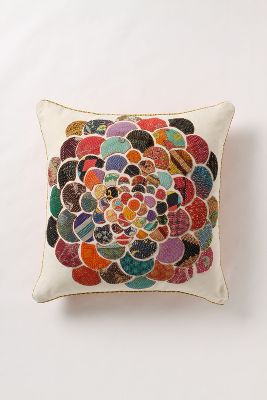 Anthropologie $88 here
So much texture in this awesome Anthro pillow. I think this would look amazing in our living space. Want. But... I refuse to pay that much for a pillow. I just can't do it.
Coolest saucepan ever, right?!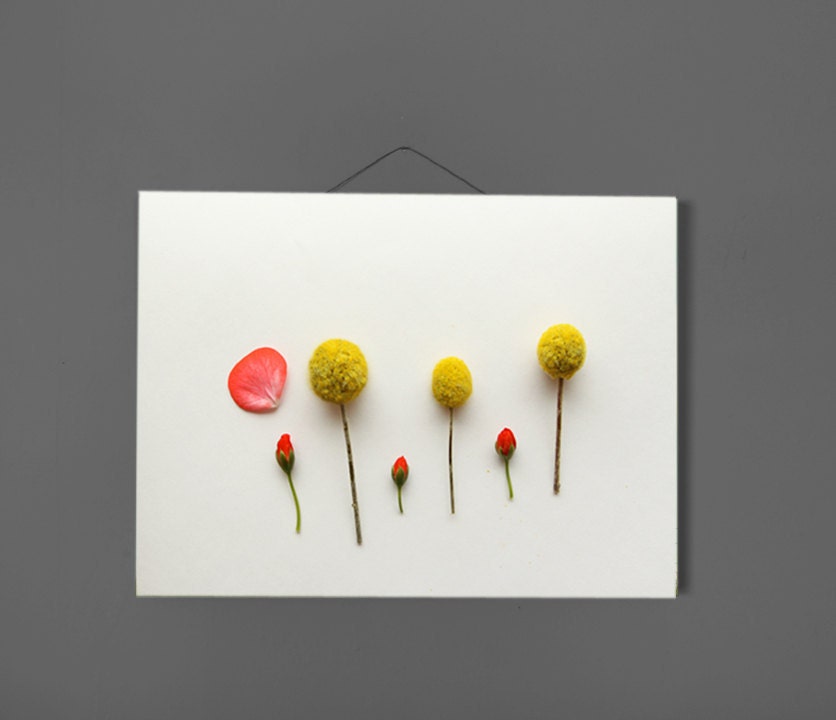 By Etsy artist Lucy Snowe $22 here
This artist has some really nice modern botanical photos that are super simple and colorful in the best way.
I love me some crazy vintage art. It's like Van Gogh's Sunflowers, but totally different at the same time. This could be done up in a gallery wall in a very good way.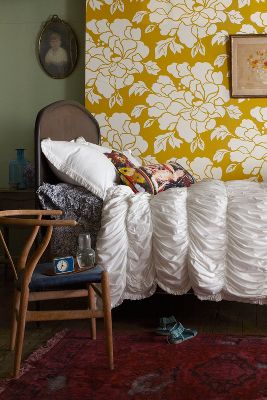 Anthropologie $148 here
Oh, Anthropologie. Why are you so amazing? The only thing I don't like in this picture is the comforter, but I barely even notice it because that large scale floral wallpaper is so epic.
Emily Henderson here
A fantastic combination of
Emily Henderson
and
Joy Cho
. Gold metallic gold floral wallpaper? Go, Joy, go!
my unbrella
My thrifty addition to this collection. This is a close-up of my very own umbrella (complete with classsy u-shaped crook handle in that same wood-like plastic as the tip shown), which I bought at a yard sale last summer for a dollar or two. It makes every rainy day that much better.
By 20x200 artist Amy Jean Porter - $60 here
Striking graphic flora and fauna print from 20x200 is just cool. It does symmetry in a good way.
The things you can find on Etsy... this vintage crate paper garland is epic. I bet it even looks good all folded up. If I had a garden to have parties in, this would decorate my garden parties.
I just couldn't help but end with this guy. What's not to love about this flower-encrusted VW Bus??
Is the weather pre-maturely spring-y wherever you are? Looking forward to flowers and green leaves on the trees? Have you found a good way to work florals into your decor? Or are you one of those totally-opposed-to-flower-designs kind of people?