There haven't been any estate sales these past two weekends (why is no one dying around here? ooh, bad joke...), but we have still managed to find a bunch of awesome thrifty finds, mostly at
Savers
, our favorite local thrift store. Seriously, we go there so often we're on friendly terms with many of the employees. Which is really a good thing, since they give us the good deals :)
As usual, most of these items are available for sale in
our Etsy shop
, and there are more photos and descriptions there, as well.
This is probably our favorite purchase from our spree at Savers this past Friday:
Awesome rattan peacock chair. Chris showed me how much they were selling for on Etsy before we went to check it out, so originally we were thinking to buy it to sell, since we got it at Savers for an amazing price... but then we got it home and put it in the empty spot recently vacated by our Christmas tree, and now I might want to keep it for awhile. We may still sell it, of course, but for now it's looking pretty good in our living space. Bella likes it, too, as you can see. It actually has a terribly unattractive cushion underneath the sheepskin, which we may reupholster, but the sheepskin has done wonders, so maybe not. I'm kind of more than kind of in love with it.
Next is one of my favorite Savers finds that I picked up on Friday. It's a complete very 70's tea set in a caramel and cream color scheme with a fantastic ridged design that totally makes it. They are all labeled "Japan" on the bottoms, and I think they have a great combination of Asian styling along with a mid century modern design sense. They're in fantastic shape, too. I would feel very classy drinking tea from these guys. I hope someone with a great spot to display them (maybe on a fancy tray?) buys them from us.
Chris bought this awesome little green glass mixing bowl at a yard sale awhile back and we finally got around to photographing it and posting it on
Etsy
. He bought it because it looked cool, and only when I went to research it online did we find out that it's a piece of Depression-era glass that was given away as advertising for Diamond Crystal Shaker Salt (it has the company name backwards on the base so you can read it through the bowl). That tends to happen to us a lot; we find something we think looks cool and then we find out it's actually very authentic vintage and worth a lot more than we paid. Good times. The same thing happened with this next purchase:
This is a tin container made by the Danish company IRA (not an Individual Retirement Account, or the Irish Republican Army... it was a design company, I swear) in the 1970's. I bought this guy at Savers the other day. When I spotted it amongst a bunch of really ugly tins and baskets, I immediately thought the design was cool, but I wasn't sure until I examined it further and realized that not only did it seem to be pretty high quality for a tin (little lining on the top to keep it more airtight, nice connection between the base and the sides...), but from the inside I could read that there was a label embossed into the bottom (Savers has awfully sticky price labels, which are often blocking the marks on the bottom of things, which is really really annoying) that said "ira DENMARK." I didn't know what "ira" meant, but any branding is usually a good thing, and anything danish is definitely good. That and it was super cheap. Sold. Took it home, did the research, et voila, it's a real 1970's designer tin. I also discovered a tiny signature printed on the corner indicating that it was designed by Anita Wangel; I love finding cool little details like that.
This is another one of Chris's yard sale finds. We all know Chris loves view-masters, and now we have three for sale in
our Etsy shop
! This is the same model as the others (Model C, made in the 1950's), and just as fun to play with. This time we included non-cartoon slides to mix it up a little, so we threw in a three pack which documents the coronation of Queen Elizabeth. Pretty hilarious stuff. This one also has an original box, although that guy didn't stand the test of time as well as its contents.
In our first
Nifty Thrifty
post way back in October, I wrote about a Turkish coffee pot I had bought at a church flea market not knowing what it was, and once I posted that guy on Etsy, it was quite popular and sold fairly quickly. Last Friday Chris came home from Savers (it's on his way home from work, so he stops there fairly frequently during the week) with a mini Turkish coffee pot, and then we went back to Savers that night (it's almost embarrassing how much time we spend doing this sort of thing...) since Chris wanted to go back to look at the Peacock chair with me, and I found another normal sized Turkish coffee pot in the exact same color as the mini one! Now we're selling them as a set, since they are clearly made for each other. Unlike the first one we had, these two both have an elaborate stamp on the bottom that reads "Made in Yugoslavia." Now that's authentic.
These cute little juice glasses are just adorable and very retro, so I couldn't resist picking them up at Savers along with all the other stuff we got on Friday. There's no label or anything, so I have no idea when they were made and who made them, but they have that vintage vibe I like, and they definitely weren't spendy (quite the opposite), so I went for it. Blogger and Chris are both insisting that "spendy" is not a word, but I disagree.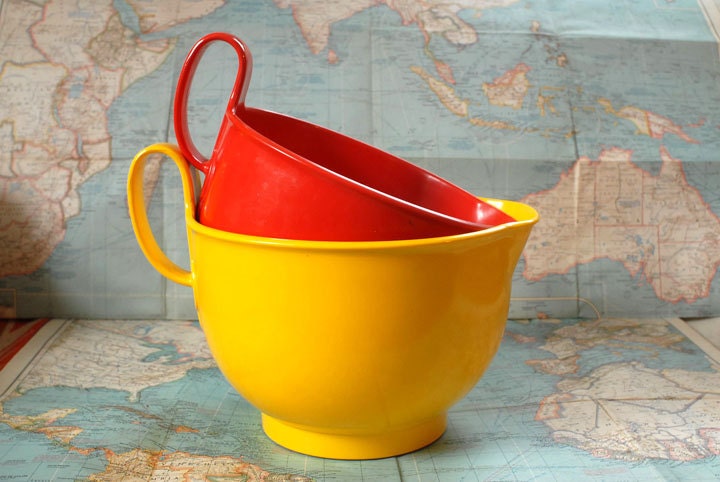 Yellow one on Etsy here, and red one here
Since we sold our blue Dansk mixing bowl recently, we have found three more in varying sizes! We bought both the extra large yellow one and the large red one at Savers on separate occasions, and just today I found a little blue one at
Boomerangs
, a thrift store in Cambridge that we just visited for the first time today. We haven't taken pictures of the little one yet, but the big ones are for sale on Etsy already. I love these bowls. They have a beautiful simple mid century design, and they're made of super sturdy plastic, so they're pretty and attractive.
This hilarious set of mushroom themed Pyrex dishes were found at (you guessed it!) Savers the other day (not on Friday like almost everything else, though. Maybe last weekend?). I discovered that they were made in the 80's, and the name of the design is "Forest Fancies." SO GOOD. How can you resist a casserole dish with a design named Forest Fancies?
What do you think of our finds? Have you found any good thrifted items recently? (Now Blogger is trying to tell me that "thrifted" is not a word, with which I wholeheartedly disagree.)
Linked to
Her Library Adventures
,
Apron Thrift Girl
, and
Cap Creations