Even though it is winter (thus there are way fewer yard sales), Chris and I have still managed to find some awesome vintage items at estate sales and thrift stores, and we are long overdue for another
Nifty Thrifty post
! Some of these things were purchased awhile ago, and we just hadn't gotten around to taking pictures yet, and some were more recent. We had a little photo shoot yesterday, in which I discovered the joy of using maps and fabrics as our backdrop. I'm pretty excited about it. A lot of these things were just added to
our Etsy shop
, so check them out
there
, too, for more pictures!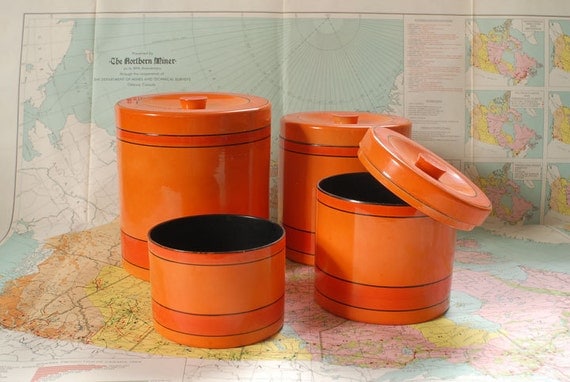 The Canada map was the biggest one we had, and had the best colors, so yes, all these items are sitting on Canada.
First up are some awesome 70's nesting containers (
Etsy listing here
!), that I found at a yard sale this past summer (maybe fall?). They have been lined up in a row on the pretty painted hanging shelf in the eating space (see them in action and read about the painting project
here
), and I totally forgot to take pictures and list them for sale until now. I like them, and they can definitely live in our apartment until they sell, but I think someone else might like them more and put them to better use. I think that is a big part of our vintage-buying philosophy: we try to only buy things we really like, so we stand behind everything in our shop 100%. We just don't have room to keep it all!
We picked up these hilarious vintage Pillsbury doughboy mugs at a yard sale awhile back, and, again, we're finally getting around to listing them. Someone with a kitschier style than us will totally love these. And while doing research on them (which was difficult, these things are rare), I discovered that the Pillsbury doughboy's name is Poppin' Fresh. AMAZING. Why did I not know that before?
As you may have noticed, I have gotten way more into kitchen stuff since we started this whole Etsy thing. I guess it began when I realized I had unwittingly bought a mid century dinner plate at a yard sale, and then I started looking for more for myself. Eventually I also realized that I had bought some cute Pyrex and Dansk items that were worth a lot more than expected, and I started learning more about buying and selling vintage kitchenware. So now I always check for quality Pyrex, Corningware, etc stuff when we're at estate sales or thrift stores.
At an estate sale this weekend there wasn't much left since we were a bit late, but Chris found this cute vintage Corningware casserole in the basement, and then I found a Pyrex glass top in the kitchen that totally fits it. It's so hard to find vintage casseroles with the glass top, so I was pretty excited to find one. Even if it wasn't original to the piece, they're both vintage and they go together perfectly.
Now onto some of Chris's vintage photography finds: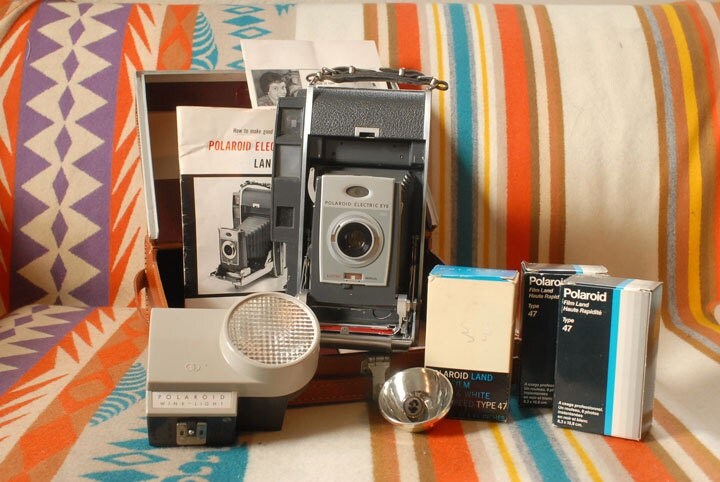 awesome Polaroid set-up available here
Chris is super stoked about this one. We found it at Savers a few days ago in the glass case by the cash register, and he kindof freaked out once he dug through the beautiful leather case and realized that not only was there an awesome vintage Polaroid camera (the kind with bellows... cool), but a manual, a flash, and not one, not two, but THREE sealed sets of film (which is pretty important, since it looks like
the impossible project
doesn't make film for these guys). It's a quite the complete set!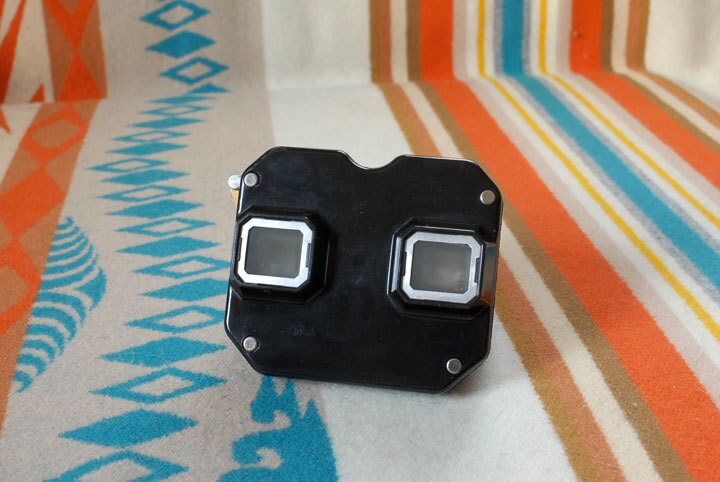 for sale with a Goldilocks slide here, or with Cinderella here
Chris has started a small collection of view-masters, and though he still loves them, we figured we don't need four of them, so Chris decided to sell two identical Model C (made in the 1950's!) view-masters, each with a fun slide. I'm not quite sure where he got these, but over the past year or so he has picked up view-masters and slides at various flea markets, yard sales, and thrift stores, so it's anybody's guess at this point. With all our crazy technology these days, it's pretty fun to toss in a slide and look at the original 3D tech that amused our parents back in the day :)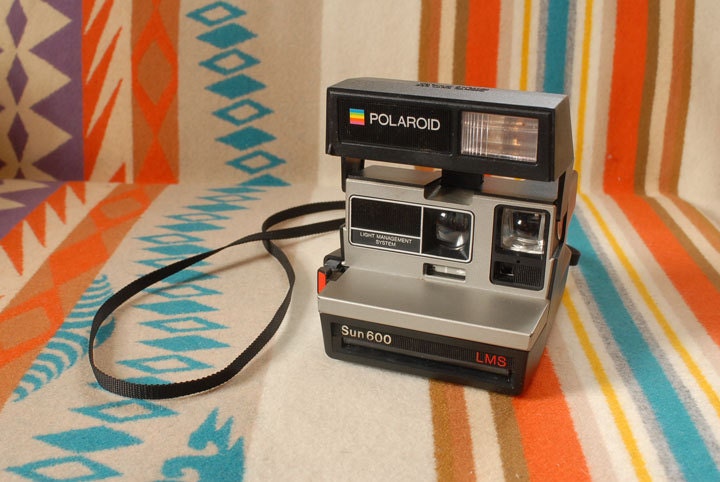 cool Polaroid camera for sale here
This camera was also found at Savers, the same day Chris picked up the full set above, so it was quite the successful day at the thrift store (below you'll see how I scored some awesome dinnerware that day, too!). The
impossible project
is actually making film for this classic 80's Polaroid camera, so this fun foldable friend is cool and useful! Chris has enough Polaroid cameras (and many other cameras...) to go around, so he has decided to start sharing the wealth by finding good homes for the Polaroids we stumble upon in our thrifting adventures.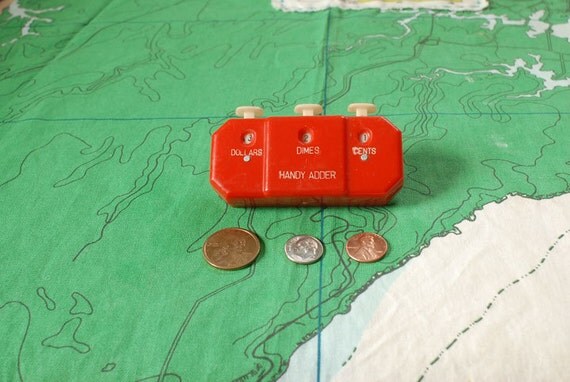 buy the "Handy Adder" here
This hilarious little counting clicker was meant to count up the total cost of your purchases as you put things in your cart at the store back in the day. We know it's from "back in the day" not only from its styling and our research, but also from the fact that it only counts up to $19.99 before resetting to 0! I wish I only had to spend that much at the grocery store...
These last few thrifty finds are staying home with us. We love everything we pick up, but some things we just have to keep.
This cute little guy was actually a Christmas gift from the lead art teacher I work with, Ruth, and I love that she knew I would totally love a little thrifted brass fox. I mean, how perfect is that for me? She found this at the annual rummage sale held at my school, and stowed it away until Christmas. His little ear is broken, but I think it gives him character :) He's currently sleeping away on our organ, while my real fox face watches over him from just above. Is that creepy? Maybe. (You can see the fox face draped over the globe on our
Spaces Tour page
, as long as you don't complain that we haven't updated the pictures since switching out the chairs for the sofa... these things take time.)
Last, but definitely not least, is a great set of mid century plates and bowls I found at Savers the same day Chris bought his Polaroid cameras. Yup, that's a full set of four bowls and four plates designed by Kathie Winkle for Ironstone Broadhurst in the 1960's. Of course, when I bought them I just thought the design was cool, and I saw the marking on the bottom, which made me think they were probably vintage. Then I got home and did my research, and sure enough they are authentic 60's dinnerware. The black and white patterns were printed on, and then the colors were hand-painted. Now my collection of mid century dinnerware is really starting to grow!
Here's a view of just the plates, so you can see the pattern a little bigger. The design is called "Roulette," which makes sense looking at the image. I'm quite happy that we have enough new (by new I mean old, but awesome) plates to phase out our cheap and boring ones we bought new when we first moved in together a few years ago. The best part is these were $6 for the whole set, and they are so much cooler and worth so much more than the blue ones we bought for $16 (and we thought that was cheap). Granted, that new set came with mugs, too, but we never use those anyway. We have plenty of awesome mismatched mugs that do the trick just fine.
Anyone else purchased any fun thrifty finds recently? Found that buying good quality used stuff is actually cheaper than buying ok quality new? I love hearing vintage bargain stories!
Linked to
Her Library Adventures
and
Apron Thrift Girl