I'm always amazed when I discover that someone hasn't heard of Etsy, because c'mon... it's Etsy. Chris and I have been (very slowly) getting our shops up and running, and especially now that Christmas is on the horizon I'm constantly scouring the site for unique gifts. Here are two artists I have been admiring lately, and they both offer very reasonably priced reproduction prints of their work that would make great Christmas gifts:
First up,
Catalina Viejo Lopez de Roda. She has a bunch of different kinds of art in her shop that would appeal to a variety of people. I'm not so into the sporty ones (but I'm sure many people would be), but I'm CRAZY about her "letter collages" and some of her other more figurative work.
This is my favorite of all her letter collages. They each have a different shape and color palette depending on "who" the letter is for. There is something so simple and joyful about the poet letter. The caption link takes you to the original collage in her Etsy shop, but she also has a reproduction available at an amazing price.
Here's a bit of how Catalina describes her letter collages: "Each letter is aimed at a very specific being. I think about someone or something that I want to write a letter to and I then translate my feelings about the person, being or thing and the emotions that they express into a combination of shape and color."
She has a great sense of color and nuance. Love the combination of neutrals with almost neutrals, pops of white, and foggy greys. Mmm mmm good.
Catalina also sells some beautiful figurative work, and we all know I'm a sucker for a good nude (just look at my art page and you'll see what I mean).
I'm beyond in love with this one. It's just gorgeous. I want. Sadly there are no reproductions of this one and I can't afford the real thing, but someone with a slightly larger budget than I should snap this guy (or rather, girl) up immediately. Yum-my.
Another really interesting and creatively different one:
I love the mixed media layers (those are color threads!), and the pencil drawings are subtle and flawless. Really fun piece.
Also, Catalina is in the Boston area, too, so yay local Massachusetts artists!
The next Etsy artist I have been crushing on recently is
Donna McKenzie of Corella Design. Her work is super fun, silly, and well-crafted. I love the combination of solid illustration mixed with bursts of whimsy and color.
I think this calendar would be a great Christmas present for just about anyone creative and cool: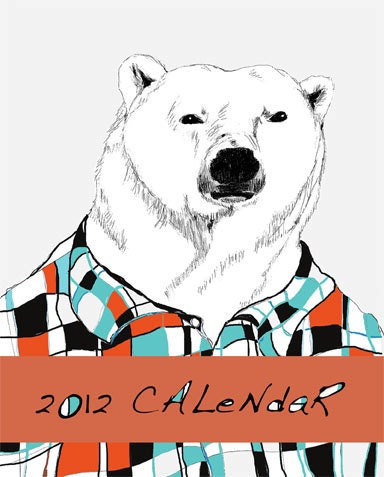 It's only $25 for a calendar that is totally unique and awesome. Good stuff.
In fact, all her work on Etsy is really affordable, and totally worth it.
All so humorous and adorable! Great for adding a bit of silly to a room. And I'm all for the silly. And using adjectives as nouns.
More and more I'm realizing that I'm a sucker for "happy" things... I like upbeat music, fun colors, clothes, etc. I think art can be an especially great way to bring life and joy to any room. Obviously everyone has their own taste in artwork, but I absolutely believe that everyone should collect art they love at a price they can afford. Definitely make your own art if you are able, and I'm for a lot (ok... at least some) of the DIY home design-y art projects I've seen out there (like framing beautiful wallpaper), but if you only have your own work (especially if there's not a great variation to what you do), your collection will feel flat. This is my plug for supporting small artists everywhere! Go to art fairs in your community! Buy prints on Etsy! Buy prints on 20x200! Look for vintage art at flea markets and yard sales! There are so many ways to build a collection of art that costs no more than buying boring posters.
This is a great tip for any young people out there who are working on "growing-up" the feel of your apartment from dorm to awesome: get cool art and put it in a frame. Not everything has to be framed, but a few nicely framed pieces (I'm not even talking custom, just some cheap frames from anywhere with a simple piece of appropriately colored paper acting as a matte behind the artwork is all you need) can really make a space feel more finished. This is turning into a post about how to put art into your apartment. I think I'm going to have to continue this idea after taking a few more pictures of the art choices we have made for our space... but in the meantime, check out these two artists on Etsy, and then keep digging! It's all to easy to get sucked into the magic of clicking from page to page of art and awesome stuff on that site.
Anyone have any Etsy favorites of your own? Recommendations of other ways to find or make great affordable art?